The freedom to send and receive faxes anytime, anywhere from any device
The modern, cost-effective way to fax
Close a real estate deal on the spot or sign a purchase order from the airport with ease. Software-based fax frees you from outdated hardware and the complications of faxing over dedicated phone lines. Manage your incoming and outgoing faxes online and benefit from considerable savings.

How RingCentral online fax works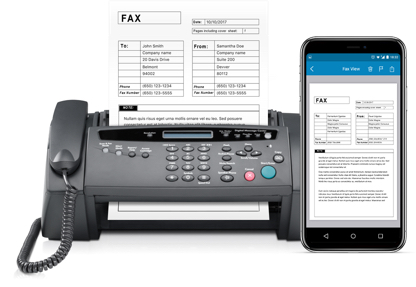 Sending faxes
Create a "new fax" in the RingCentral mobile or desktop app and enter the recipient's fax number, add message text, and attach files from DropBox, Box, Google Drive, or any Microsoft Office® application.
Or, submit faxes via email by addressing them to the recipient's fax number @rcfax.com. The email text and any attachments become the pages of the fax.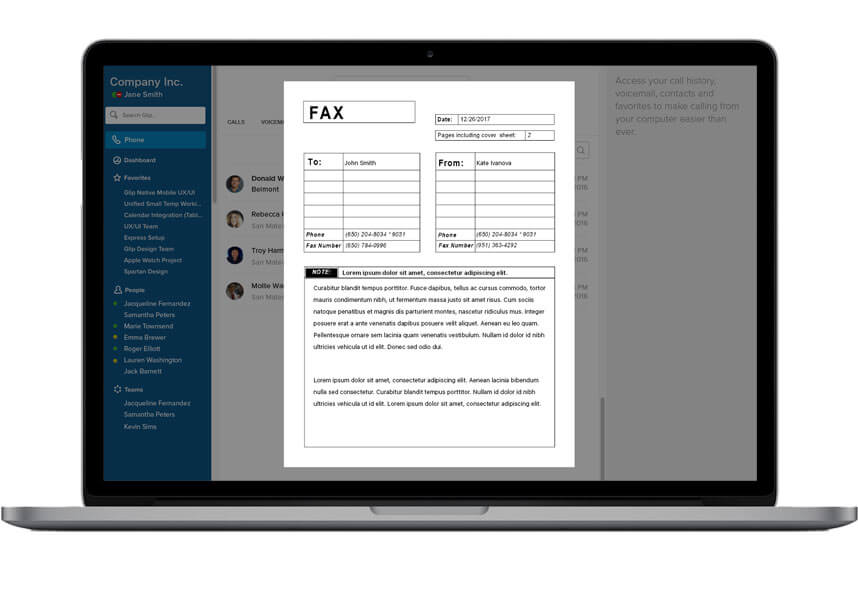 Receiving faxes
RingCentral will provide you with your own fax number or you can use your existing number. You'll receive internet faxes in your inbox as email attachments that you can forward, file, or print.
How RingCentral online fax works
<div style="text-align: center;"><!-- [et_pb_line_break_holder] --> <div style="font-size: 80px;"><!-- [et_pb_line_break_holder] --> <i class="fal fa-fax"></i><!-- [et_pb_line_break_holder] --> </div><!-- [et_pb_line_break_holder] --> <div style="padding: 15px 0; font-size: 18px;"><!-- [et_pb_line_break_holder] --> Flexible faxing<!-- [et_pb_line_break_holder] --> </div><!-- [et_pb_line_break_holder] --> <div><!-- [et_pb_line_break_holder] --> Send and receive faxes from computers, smartphones and tablets with ease.<!-- [et_pb_line_break_holder] --> </div><!-- [et_pb_line_break_holder] --></div>
<div style="text-align: center;"><!-- [et_pb_line_break_holder] --> <div style="font-size: 80px;"><!-- [et_pb_line_break_holder] --> <i class="fal fa-shield-check"></i><!-- [et_pb_line_break_holder] --> </div><!-- [et_pb_line_break_holder] --> <div style="padding: 15px 0; font-size: 18px;"><!-- [et_pb_line_break_holder] --> Security first<!-- [et_pb_line_break_holder] --> </div><!-- [et_pb_line_break_holder] --> <div><!-- [et_pb_line_break_holder] --> Rest easy knowing cloud fax securely transmits over an encrypted internet connection.<!-- [et_pb_line_break_holder] --> </div><!-- [et_pb_line_break_holder] --></div>
<div style="text-align: center;"><!-- [et_pb_line_break_holder] --> <div style="font-size: 80px;"><!-- [et_pb_line_break_holder] --> <i class="fal fa-users"></i><!-- [et_pb_line_break_holder] --> </div><!-- [et_pb_line_break_holder] --> <div style="padding: 15px 0; font-size: 18px;"><!-- [et_pb_line_break_holder] --> Advanced functionality<!-- [et_pb_line_break_holder] --> </div><!-- [et_pb_line_break_holder] --> <div><!-- [et_pb_line_break_holder] --> Fax to groups, block faxes without caller ID, and receive notifications of all activity.<!-- [et_pb_line_break_holder] --> </div><!-- [et_pb_line_break_holder] --></div>
<div style="text-align: center;"><!-- [et_pb_line_break_holder] --> <div style="font-size: 80px;"><!-- [et_pb_line_break_holder] --> <i class="fal fa-file-alt"></i><!-- [et_pb_line_break_holder] --> </div><!-- [et_pb_line_break_holder] --> <div style="padding: 15px 0; font-size: 18px;"><!-- [et_pb_line_break_holder] --> Online account and fax logs<!-- [et_pb_line_break_holder] --> </div><!-- [et_pb_line_break_holder] --> <div><!-- [et_pb_line_break_holder] --> View faxes that you have received and sent and see detailed electronic fax logs via your online account.<!-- [et_pb_line_break_holder] --> </div><!-- [et_pb_line_break_holder] --></div>
<div style="text-align: center;"><!-- [et_pb_line_break_holder] --> <div style="font-size: 80px;"><!-- [et_pb_line_break_holder] --> <i class="fal fa-hashtag"></i><!-- [et_pb_line_break_holder] --> </div><!-- [et_pb_line_break_holder] --> <div style="padding: 15px 0; font-size: 18px;"><!-- [et_pb_line_break_holder] --> Diverse choice of numbers<!-- [et_pb_line_break_holder] --> </div><!-- [et_pb_line_break_holder] --> <div><!-- [et_pb_line_break_holder] --> Keep existing fax numbers or choose toll-free or local numbers.<!-- [et_pb_line_break_holder] --> </div><!-- [et_pb_line_break_holder] --></div>
<div style="text-align: center;"><!-- [et_pb_line_break_holder] --> <div style="font-size: 80px;"><!-- [et_pb_line_break_holder] --> <i class="fal fa-arrow-from-left"></i><!-- [et_pb_line_break_holder] --> </div><!-- [et_pb_line_break_holder] --> <div style="padding: 15px 0; font-size: 18px;"><!-- [et_pb_line_break_holder] --> No work interruptions<!-- [et_pb_line_break_holder] --> </div><!-- [et_pb_line_break_holder] --> <div><!-- [et_pb_line_break_holder] --> Don't worry about being on the phone, your fax messages will come through seamlessly.<!-- [et_pb_line_break_holder] --> </div><!-- [et_pb_line_break_holder] --></div>