3 Ways to Connect SIP Trunks with FAVS
1. Connect to your own or our Unified Communications-as-a-Service (UCaaS) Platform.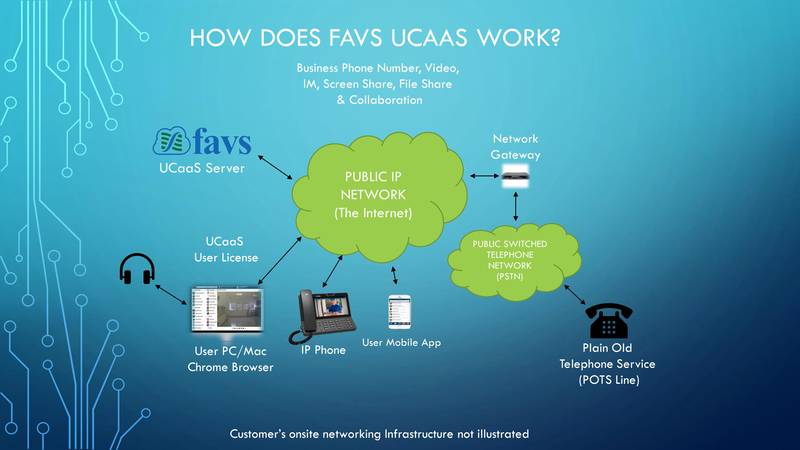 Streamline your communications strategy and unleash the power of the Cloud with our UCaaS solution powered by FAVS SIP Trunks. As a single, integrated in-office and remote work solution, our UCaaS offering unifies your business calling, video conferencing, Instant Messaging, desktop sharing and file management needs.
With integration to popular CRMs like Salesforce, Zoho and HubSpot, UCaaS eliminates the need for separate phone lines, video conferencing services, and messaging platforms and their associated high monthly fees.
The FAVS UCaaS solution combines all of your communication channels into a single platform at one amazingly affordable monthly cost.
2. Connect to your existing SIP-ready phone system.
You may have a SIP-ready PBX previously installed at your business. Your current SIP Provider (Big Telco or Big CableCo) may be charging a small fortune for SIP service or you may still be using legacy telephone services like a POTS line. If you are, then switching to FAVS is easy, cost-effective, and worthwhile.
Your current phone system is presumably ready for our service. However, in the case that you require additional services, our sales specialists are certified professionals who know most major phone systems. They will consult with both you and your vendor to ensure everything is ready for FAVS SIP trunks.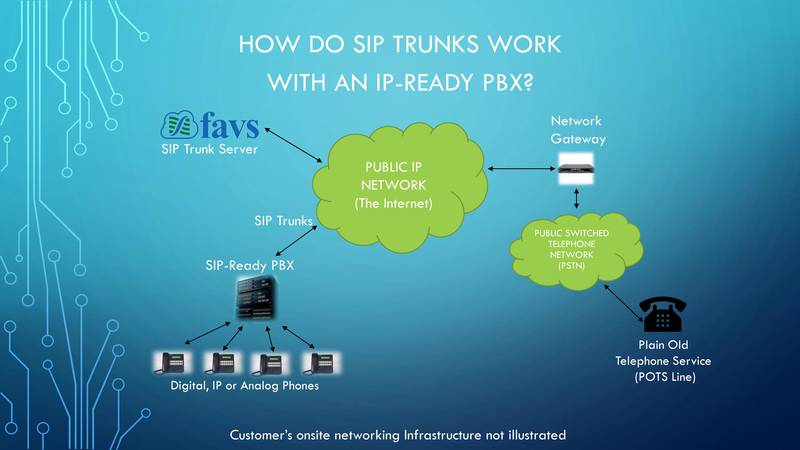 If you do not have a SIP-ready phone system and would like to upgrade to one, Foritas has a complete line of SIP-ready phone systems to suit your needs.
3. Connect to your legacy equipment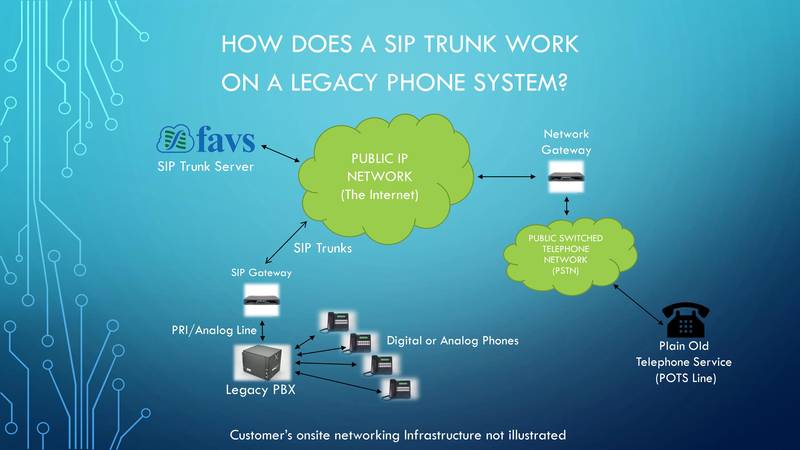 Just because your phone system is old, doesn't mean that you have to throw it out. Your FAVS sales specialist can tailor a package that includes a gateway adaptor to convert our SIP trunks to your existing PRI or analog phone lines (POTS). You have the option to purchase the gateway outright or rent it as part of your service. Bottom line is you can keep your existing phone system and save up to 50% in monthly costs by switching from your old phone company to FAVS.
So why wait? Switch to FAVS Sip Trunks and see how much you can save!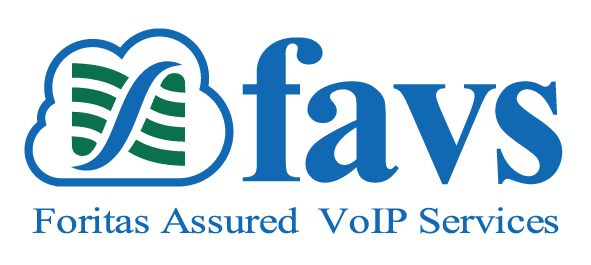 About Foritas
Foritas, Inc. specializes in voice and data communications for business enterprises. Our technology partners include Vertical Communications, Intermedia Communications, Zyxel and Spectrum. Together with these strategic partners, we enhance the communications of single and multi-site enterprises in New York and throughout the USA.